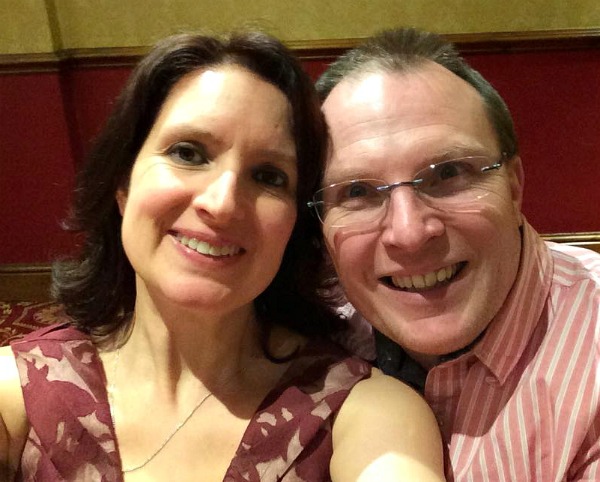 Michelle, Owner of Simply Stunning Jewellery with her husband Duncan.
The History Of Simply Stunning Jewellery
Simply Stunning Jewellery, is a handmade jewellers set in the heart of Cheshire. We specialise in individually designed jewellery and limited edition pieces with sleek, simple designs for you to wear any time and for any occasion.
Established in 2002, Simply Stunning Jewellery prides itself on quality, which is why ALL our Sterling Silver jewellery is Hallmarked. This means that each piece is rigorously tested at Sheffield Assay Office to ensure it meets with the standards for Sterling Silver. Pieces are also stamped with our makers mark 'MCW', the initials of the founder and designer Michelle Wareham. This can usually be found next to the hallmark on the back or link ring of the piece. It is your guarantee that the piece is Simply Stunning standard, and your assurance that you are getting what you pay for.
We have a wide variety of designs and styles, to suit all occasions. From every day wear, handmade bridal jewellery and bridesmaid hair clips / tiaras, to something to go with that little black dress. We do not forget the men, and offer a range of mens cufflinks and pendants too.
The jewellery is designed less about fashion and more about simplicity and style. This way your purchase is less likely to look outdated, and remain stunning. All pieces start life as sheet or wire. This is then crafted with various tools and soldered to create the elegant lines and subtle design details of the finished piece. Jewellery is then sent for hallmarking. On its return it is polished and finished, before being boxed and dispatched to you.
Because all pieces are individually made, matching pieces can be created to complete a look. For example, earrings could be made to compliment a pendant,  bracelet or ring.
If you are looking for a gift, then we can gift wrap it for you.
We sell from our website with secure payment systems. Alternatively we also go to craft fairs throughout the year. A diary of where we will be can be found here.
This FREE service involves working with you to find out exactly the right jewellery for you. Don't worry if you do not know where to start, we can help. We will show you existing designs and ideas and work with you to find the perfect piece. If this is not one of our current designs, then we will make it up especially for you. This design will then be bespoke to you and not repeated again. The design will be kept on file, so that you can come back to get matching pieces to compliment your jewellery at a later date.
If you are buying for someone else, why not treat them to the design experience. When you purchase gift vouchers these can be used by the recipient towards a design of their choice. Always good if you are not sure what to get. The vouchers can be gift wrapped to make them extra special and sent directly to the lucky recipient, along with instructions on how to redeem. The vouchers can also be used for existing pieces from the web site.